Bottiglia Is the Perfect Italian Restaurant in Henderson To Bring a Date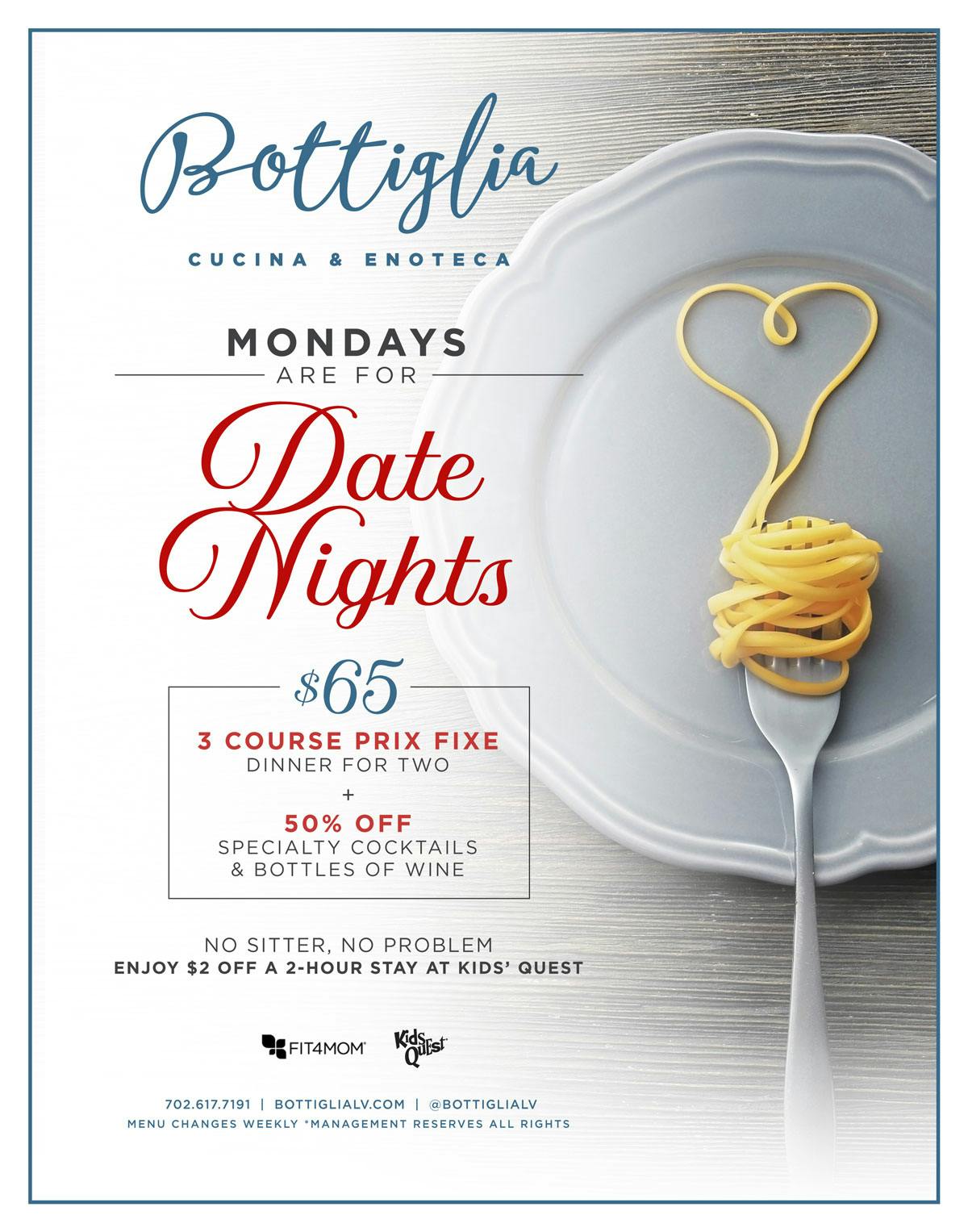 Looking for An Ideal First Date Location? Bottiglia Is the Perfect Italian Restaurant in Henderson to Bring a Date
Let's be honest, dating is hard, and the first date is the most difficult. From deciding what to wear to freaking out about what to say, it can be a nerve-wracking experience before you even get there. Luckily, Bottiglia Cucina & Enoteca is the perfect Italian restaurant in Henderson to bring a date, especially because they offer Date Night Mondays, where you can feast on a swank 3-course prix fixe dinner for two for only $50. It will only look like it broke the bank. While they can't whisper what to say to your date via hidden earphone 90's sitcom style, they can offer these great tips on what to order to hopefully score you
Liquid Courage
Bottiglia has hosted enough first dates within its trusty Tuscan walls to know that a bottle of vino sets the vibe and loosens you up for a smooth night. On Mondays, they're your wine wingman by offering 50% of all bottles of wine. With nearly 100 selections to choose from, you can still look boss on a budget. Show your date you're sincere with a superb bottle of Sancerre, a crisp white from France or go classic romantic with a rich red bottle of Chianti Classico.
Magic Meatballs
Everyone knows that the Tramp won Lady's heart, not with his charm but his impeccable ordering skills. In a nod to this romantic rogue, Bottiglia is serving its Meatball appetizer with delectable gravy and parmesan bread crumbs. You can give the last one on the plate for your date, just please don't nudge it with your nose. For your entree, choose between the hearty Chicken Parmesan or the Wild Mushroom Tagliatelle. You can give your date a taste of both your dinner and your generous side.
The Cherry on Top
End your meal–but hopefully not your night– with a slice of rich and creamy NY Style Cheesecake topped with whipped cream and cherries. If you're feeling fine from the convo and the wine but want to sweeten the deal for your sweetheart, order a digestivo of Limoncello to keep those sparks a-flyin'. This meal will leave you and your date satisfyingly satiated but hopefully craving more–of each other.