Book Your Summer Group Dining with Bottiglia!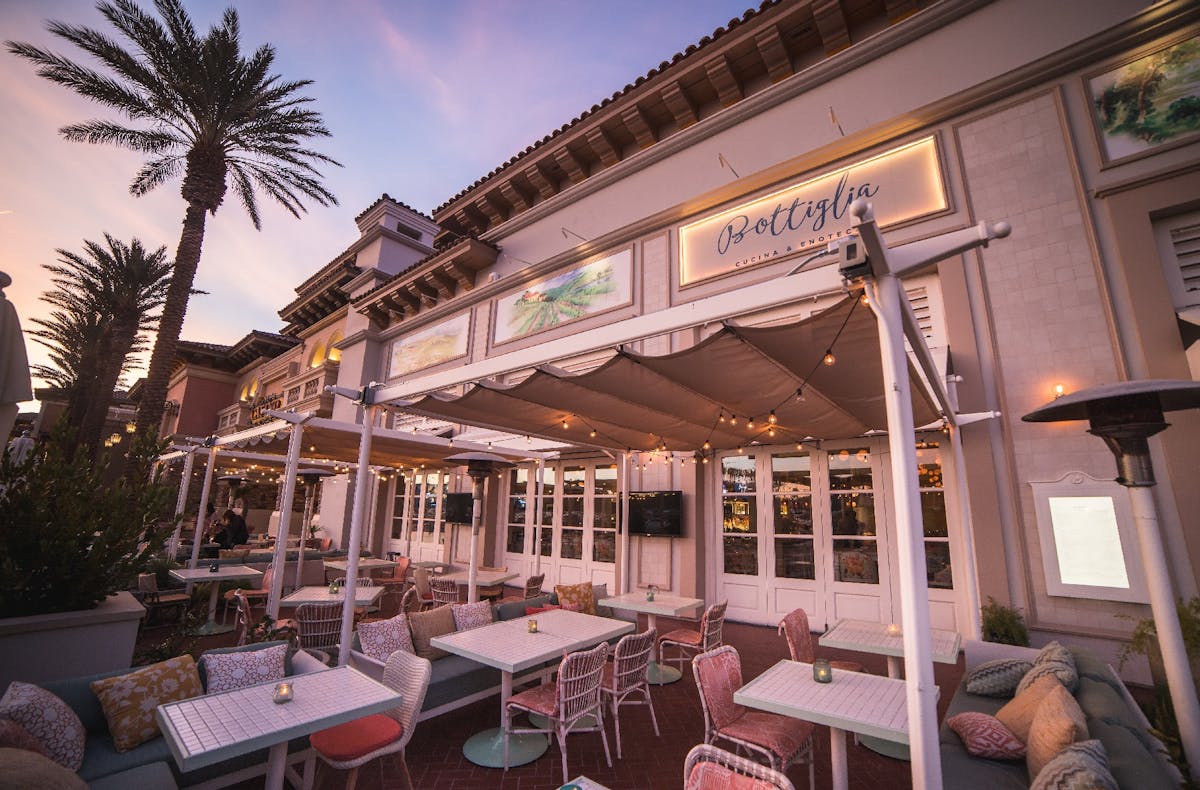 Summer is the season for making memories. As kids, most of us spent hours running and biking in the hot sun with friends, but as adults, we often get caught in the hamster wheel of work, family, and obligations. It doesn't have to be that way. At Bottiglia, located in the Green Valley Ranch Casino, we want to encourage you to take the time to slow down and enjoy the summer this year. So, we decided to make it a little easier to create memories with friends and loved ones with a sizzling summer group special. Come relax, enjoy delicious Italian food, sip a glass of wine, and enjoy time with loved ones.
Sizzling Summer Group Special at Bottiglia
Let us help you make memories with those you love this summer at Bottiglia! Looking for a location for your next special event? Bottiglia's bright and airy venue is the perfect location for your next birthday party, baby shower, anniversary party, or wedding shower. Whether you have 12 guests or 250, we have you covered. Choose from our private dining room for an intimate dinner for up to 26 people, or select our picturesque patio for groups up to 100. Need a bit more space? Our entire venue can be yours for groups up to 250 people. Let us help you make memories to last a lifetime with rustic Italian fare, a relaxed atmosphere, and detail-oriented service. This summer it is easier than ever to book an event at Bottiglia with our summer group special. Groups of 12 or more guests can enjoy all we have to offer at a special discount price. Here is how it works! Schedule an event before September 1st for 12 or more guests and enjoy 15% off all your food and beverages. Choose to order off the menu, or work with our staff to build a special group dining menu. Buffet service is available for large groups. To enjoy the special price, you must mention this offer and your event must take place before September 1st. Book your special event today and start making memories at Bottiglia.
Why Choose Bottiglia for Your Next Special Event?
Italians take their food seriously, using only the freshest ingredients to create mouth-watering dishes that play with flavors and textures. Dining in Italy is a laid back, relaxed experience, not a race to finish. At Bottiglia, we keep those Italian traditions alive by using the freshest ingredients to craft our dishes and serving it in a relaxed atmosphere that encourages you to relax and enjoy good food and good company. Our staff is dedicated to creating a dining experience, not just a meal. Our carefully appointed dining room and friendly and helpful staff will create an experience to remember. Our menu includes rustic Tuscan dishes, your favorite classic Italian recipes, an expansive wine list, and creative cocktails. Whether you are craving lasagna with creamy ricotta cheese and tangy sauce or a simple dish like Rigatoni & Cherry Tomatoes, our menu will satisfy every Italian craving. Vegetarians and vegans will be pleased with our selection of meat and animal product free dishes, including our Vegan Spaghetti Bolognese, made with chickpeas and almond ricotta, and Vegan eggplant parmesan. Gluten-free menu options are also available. Other favorite dishes include our grilled salmon, wood grilled Wagyu steak, crispy Brussel sprouts, and King Crab bucatini. Explore our full menu here.
Make Your Group Reservation Today at Bottiglia
Celebrating special events helps bring families together and even promote relationships between coworkers. We want to help you celebrate your next special occasion, no matter how big or how small. Our comfortable yet upscale venue is the perfect location to celebrate all of life's events, from baby showers to golden anniversaries. Whether you need to schedule a dinner for 12 or a large event for 250 people, we are happy to accommodate your group. Don't forget to mention our summer special to enjoy 15% off all food and beverages for group dining events held before September 1st, 2019. Ready to book your special event? Contact us today to schedule group dining at Bottiglia. We can't wait to see you.